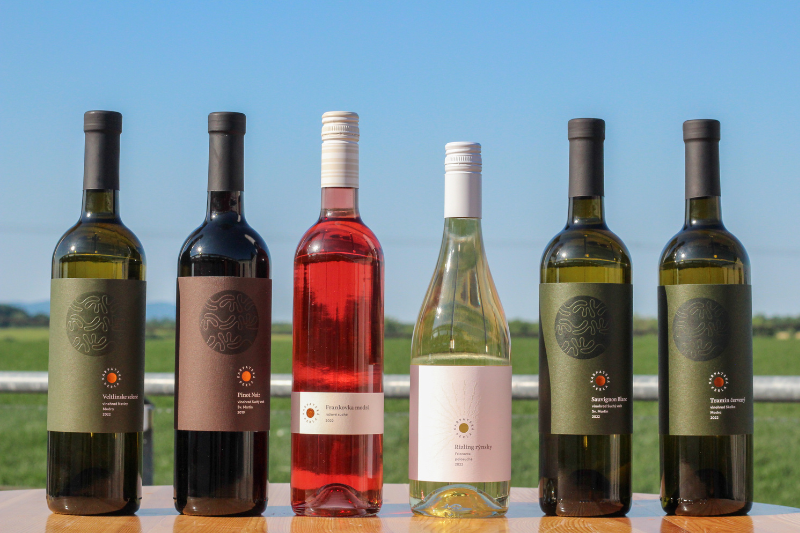 Will you also be grilling, vacationing, hiking and meeting your family and friends, or just relaxing when time allows you to do so? Do you feel like enhancing your summer moments with a nice refreshing wine?
We have prepared a special "Summer Set" for you, consisting of six wines, and we are offering a discount of up to 15% for all wine lovers. Enjoy your summer with beautiful wines made with love from the grapes cultivated in our vineyards, which have been operating under organic farming practices since 2019.
Among the light wines with a touch of summer, you will find the popular semi-dry Frizzante Rhine Riesling 2022, sourced from granite subsoil, with a tropical fruit aroma and pleasant acidity in its taste. There's also the dry rosé Blaufränkisch 2022 from the Šajby vineyard in Modra, dominated by the aroma of wild strawberries and a juicy fruity flavor.
In the set, we have also included our dry Grüner Veltliner 2022 from the Noviny vineyard in Modra, the full fruity and spicy flavor of which is enhanced by six months of aging in oak and agate barrels, the dry Traminer 2022 from the Skalka vineyard in Modra, which will enchant you with its aromas and notes of overripe fruit and whose taste with a slightly spicy character transforms into a sweet honey note and the dry Sauvignon Blanc 2022 from the Suchý vrch vineyard, featuring a floral aroma complemented by a fresh hint of vineyard peach.
And if you crave for a lighter red wine during the summer, our Pinot Noir 2019 from the Suchý vrch vineyard, with its beautiful notes of cherries and dark chocolate in its nose and mouth, is also included in the set.
You can find the Summer Set in our e-shop or at our winery store which is open from 9:00 AM to 5:00 PM, Monday through Saturday.
---